Seguro Ndabene was just like any other working Nigerian until a simple lottery ticket propelled him into the millionaire's club. Recalling that defining moment when he won $17 million in the Super 7 jackpot, Ndabene is still unable to hide his disbelief.
"I remember I kept looking at the ticket, and then the numbers on the screen, over and over again. I thought it was a dream," Ndabene recounts. The news spread like wildfire, not just in Canada, where Ndabene resided at the time, but also back home in Nigeria. As he navigated the whirlwind of media attention, his thoughts were already turning toward home.
His Background
Ndabene grew up in a small Nigerian town with limited resources. "Life wasn't easy," he reflects. "We had to walk miles to fetch water. Schools were understaffed and overcrowded." Despite the hardships, Ndabene was always hopeful of a brighter future. After moving to Canada in search of better opportunities, he never forgot his roots.
When his lottery win turned his life around, Ndabene was well aware of the stark contrast between his past and present. It is perhaps this that inspired his philanthropic pledge.
A Commitment to the Community
"I knew I had to give back to my community," Ndabene shares earnestly. "I wanted to ensure that children in my hometown wouldn't have to endure the same struggles I did." And he did just that, using a portion of his winnings to provide clean water and education in his Nigerian hometown.
Ndabene's decision was driven by his personal experiences and deep-rooted values. "It was not just about providing material assistance. It was about empowering the people and providing them with the resources to better their own lives," he explains.
Changing Lives with a Lottery Ticket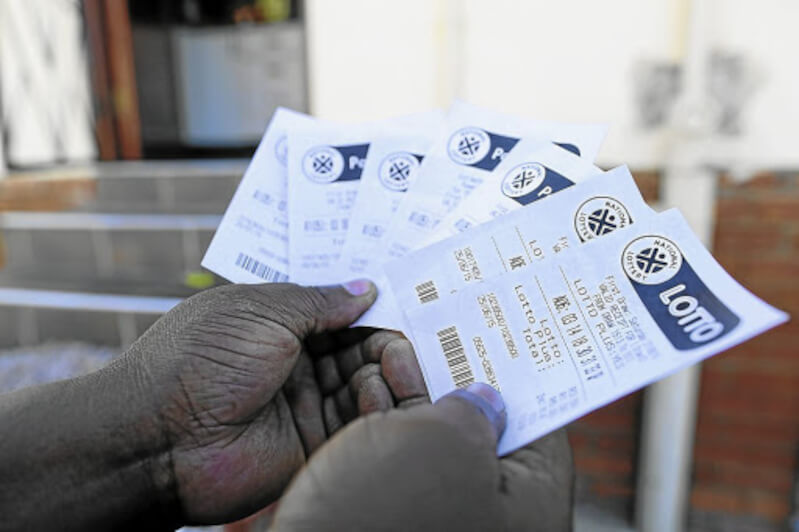 The impact of Ndabene's contribution has been transformative. One of the community members, Amina, shares, "We used to spend half our day fetching water. Now, we have clean water right in our homes. Our children can focus on their education."
Another beneficiary, Umaru, is a student at one of the schools that Ndabene helped fund. "I can learn in a comfortable environment now, with textbooks and stationery. My dream is to become a doctor, and I know it's possible now," says a beaming Umaru.
The Impact of Seguro Ndabene's Generosity
We went around the village and spoke to many of the local community members to give our readers a clear perspective on how one lottery ticket can impact and influence many live in just one humble community. Here is what some of them had to share with us:
"When I heard of Seguro's win, I was happy for him. But when I heard he was bringing clean water to our village, I was even happier. Before, I had to walk for miles just to fetch water for my crops, sometimes compromising their health. Now, I can water my plants without any worry. My yield has improved, and I can provide for my family better." – Chinedu Okorie, Local Farmer
"Seguro's contribution has brought about a positive change in our students. They are more enthusiastic and curious. The new textbooks and stationery he provided have made teaching easier and learning more engaging. It's heartening to see the children's eagerness to learn." – Okonkwo Okafor, Local School Teacher
"Thanks to Seguro, our lives have improved drastically. The time we save from not having to walk miles for water, we use it for more productive things. My daughters can now help me with the housework, and we even have time to learn new skills." – Interview with Ijeoma Eze, Housewife
"The clean water project has been a boon for my business. I run a small eatery in our village. With the installation of clean water, I no longer have to worry about waterborne diseases affecting my customers. This has given my business a reputation for hygiene and has attracted more customers." – Obiageli Azubuike, Local Businesswoman
"Sending my children to school used to be a difficult decision due to the lack of resources. But now, I send them without any worry. I can see the difference in their knowledge and confidence. Seguro's generosity has not just educated my children, but given them a better future." – Okechukwu Abuchi, Parent
"I always dreamed of going to university, but I knew it was a distant dream given our circumstances. Now, it seems achievable. The better learning environment, new textbooks, and other resources have improved my grades. I am more hopeful about my future now." – Amara Nwankwo, High School Student
A Shift in Personal Life
In the wake of his life-altering lottery win, Seguro Ndabene's personal life has undergone significant change. No longer burdened by financial worries, he enjoys a comfortable existence, far removed from the struggles of his early life. But Seguro's true joy comes from seeing the impact his contributions have on his hometown.
"I have been blessed with the privilege to give back, and it has been a humbling experience," says Seguro. "Seeing the changes in my village, the smiles on people's faces, it gives me a sense of satisfaction that no amount of money can buy. I believe I was chosen to win this money because I was in a position to make a difference, and I'm grateful for the opportunity."
In contrast to the extravagant lifestyles often associated with lottery winners, Seguro lives relatively modestly. He maintains close ties to his community, ensuring his philanthropy meets their actual needs. His prime focus lies in funding community projects that bring about long-term, sustainable development.
Discussing his future aspirations, Seguro has big plans. He aspires to extend his philanthropic efforts beyond his village. "I want to help other communities across Nigeria that lack basic amenities like clean water and quality education," he shares. "I aspire to leverage this win to create change on a larger scale."
Moreover, Seguro is a strong advocate for the power of personal wins to drive community change. "I think anyone who has the means should consider contributing to their community," he asserts. "When personal success is translated into communal upliftment, the impact is phenomenal. A win becomes much more meaningful when it's not just about you but also about helping others rise."
Seguro Ndabene's narrative serves as a reminder of the power of philanthropy and the significant role personal wealth can play in community development. His journey from lottery winner to community benefactor demonstrates that success is not just about personal gain, but the ability to share one's fortune and make a meaningful difference. In a world where wealth is often viewed through the lens of personal enrichment, stories like Seguro offer a refreshing perspective, illustrating how wealth can also be a catalyst for social change.
As we examine Seguro's story in detail, we are struck by his deep commitment to his community, his desire to uplift those around him, and his vision for a better future. His lottery win, instead of being an end in itself, became a means to a more significant end – transforming his community. The tale of Seguro Ndabene is indeed a testament to the transformative power of generosity and a shining example of how individual prosperity can be harnessed to foster communal progress.